Jessica Costa
Piano Instruction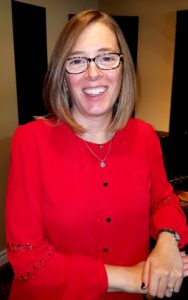 Jessica Costa is the owner and principal instructor at North Bay Piano Lessons. She began her teaching career as part time faculty at Cambrian College's School of Music Performance in Sudbury, Ontario in 1996. After formation through the Royal Conservatory of Music, she finalized her music studies graduating with honours as a piano major from Cambrian College under the tutelage of Professor John Hannah. Professor Hannah identified Jessica's strong aptitude in Pedagogy. And after graduation, he invited her to join the faculty at the College. Jessica taught both, classroom and private lesson formats, but felt strongly compelled to teach students one-on-one.
In the next few years, Jessica established a private practice, and expanded an in-school program at the French Catholic elementary school: École St-Denis. Jessica's infectious energy and love for music quickly spread throughout the student population. Within a year, the program surged with an enrollment of over 40 students.
In 2005, she relocated with her family to North Bay. She was immediately hired by Brava Studios where she taught for the next 5 years. She re-established her own private practice in 2010. Jessica and her students are an annual fixture at the North Bay Kiwanis Music Festival. They also share their love of music, by offering recitals at local seniors centers.
Sacred Music and the Pipe Organ
Outside of piano instruction, Jessica is also a highly experienced and sought after Church musician. She has been playing for Church services since the age of 11. She's currently an Organist at the Pro Cathedral of the Assumption in North Bay.
Jessica began learning to play the pipe organ in 2010, and immediately fell in love with the instrument. Jessica has been fortunate to study under the direction of: Dr. Robert Hall, Dr. Stillman Matheson, and Canadian pipe organ virtuoso Sarah Svendsen. One of her goals, is to provide lessons to people interested in playing the "Magnificent King of Instruments": The Pipe Organ.
Testimonials
Jessica is a caring yet demanding teacher, who is very passionate about music and teaching students who are eager to learn. Students of all ages are equally inspired by her infectious personality and joy for music. Her love and dedication is evident to students and parents alike:
Jessica is such a great teacher! She pushes my son to play to his ability and keeps him accountable. She's also very enthusiastic and is always proud of her students and let's them know it. I would recommend her to anyone wanting to learn to play piano.
– Melody W.
THE best teacher!! Jessica is so positive and enthusiastic with her students and so passionate about music and her profession!! I have always recommended Jessica and will continue to do so.
– Lori B.
My daughter started piano lessons with Jessica at the young age of 4 years old. Jessica ensures the lessons are fun while still making sure she is learning the fundamentals. Jessica has instilled a love for piano in my daughter that will last a lifetime!
– Karin P.